In an emergency, there are many things that can go wrong in your home and cause water damage. This includes broken pipes or a clogged toilet causing flooding to any part of the house as well as dishwasher failure which will result if you don't close off valves before starting repairs on this type appliance (which is not always evident). Other emergencies include leaky pipe situations where sink overflow occurs due ot failing pumps; sewer surcharging happening when electricity goes out downstream from our Treatment Plant – these events often happen during storms because heavy rains translate into higher than usual flow rates for rivers feeding into them.
When any of these mishaps occur, it's not long before the resulting standing water or sewage causes major problems. In addition to the flood, you may have damaged or ruined furniture, flooring, and drywall. Your walls may have been weakened by water and the first signs of mold could be spreading throughout your home. This is the kind of damage that can be mitigated by professional water damage restoration services.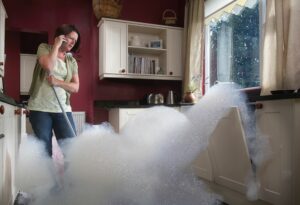 What is water restoration? Unfortunately, it's much more than just drying and cleaning your home or business after a flood. Simply drying the surface is not true water removal and is often not enough to remove the threat of bacteria and viruses. Porous materials like carpet, furniture, and even drywall can hold water long after they appear dry on the surface. Unless properly dried and treated by a water restoration crew, misordering and potential health problems can result.
The prompt and professional water removal experts at Absolute Force Water Damage Remediation And Mold Removal are fully trained and certified by the IICRC to clean and deodorize areas affected by excessive water damage. Water damage restoration begins with an industry-approved process that provides protection against germs, mold, and odors and is designed to get your home back in working order as quickly as possible.
When you hire water restoration professionals, a fast and experienced team will work with you and your insurance company to ensure the experience is as painless as possible. Once your insurance coverage is determined, Absolute Force Water Damage Remediation And Mold Removal will ask for your written permission to begin the water damage restoration process.
Then begin drainage, removal of unsalvageable structures and contents (including personal property, carpet, and another flooring, drywall (only damaged portions of studs are cut), paneling, shelving, cabinets, etc.), cleaning of affected areas, disinfection, deodorization and methodical drying of the structure. A team will also remove damaging and water-damaged debris.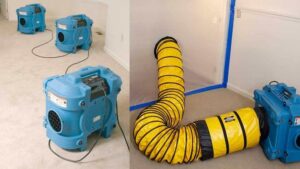 Damage to your property and contents is fully documented, per insurance industry standards, with photos of the loss before water damage restoration work begins, during the process, and again after the work is done . The professionals at Absolute Force Water Damage Remediation And Mold Removal are also trained to prepare sketches and create dry records for your insurance company so your claim can be processed quickly and accurately.
The actual time to clean and dry your home and its contents should be determined based on the extent of water damage, as well as the time it takes to reach the dry standard. The water restoration process can be completed in as little as two days or it can take up to a week. Draining, cleaning, packing, unsalvageable property removal, sanitizing, and deodorizing are usually completed on the day of your call. Drying equipment, dehumidifiers, and air sanitizers are left in your home to complete the water cleaning process. Equipment is removed only when our extensive temperature, humidity, and humidity tests confirm that the affected areas have been dried to approved standards.
Absolute Force Water Damage Remediation And Mold Removal cares about you and wants to make sure that properties that are victims of water and/or sewage damage and mold can recover. The harmful effects of water damage can be greatly reduced with Absolute Force Water Damage Remediation And Mold Removal fast and reliable water damage restoration services.